The Edit Arena is a new part of Inventoro, where you can manage pretty much any product attribute. Things like minimal order quantity, specific lead times, and packaging can now be set per SKU. You can even set product predecessors or take out products from everyday recommendations in couple clicks.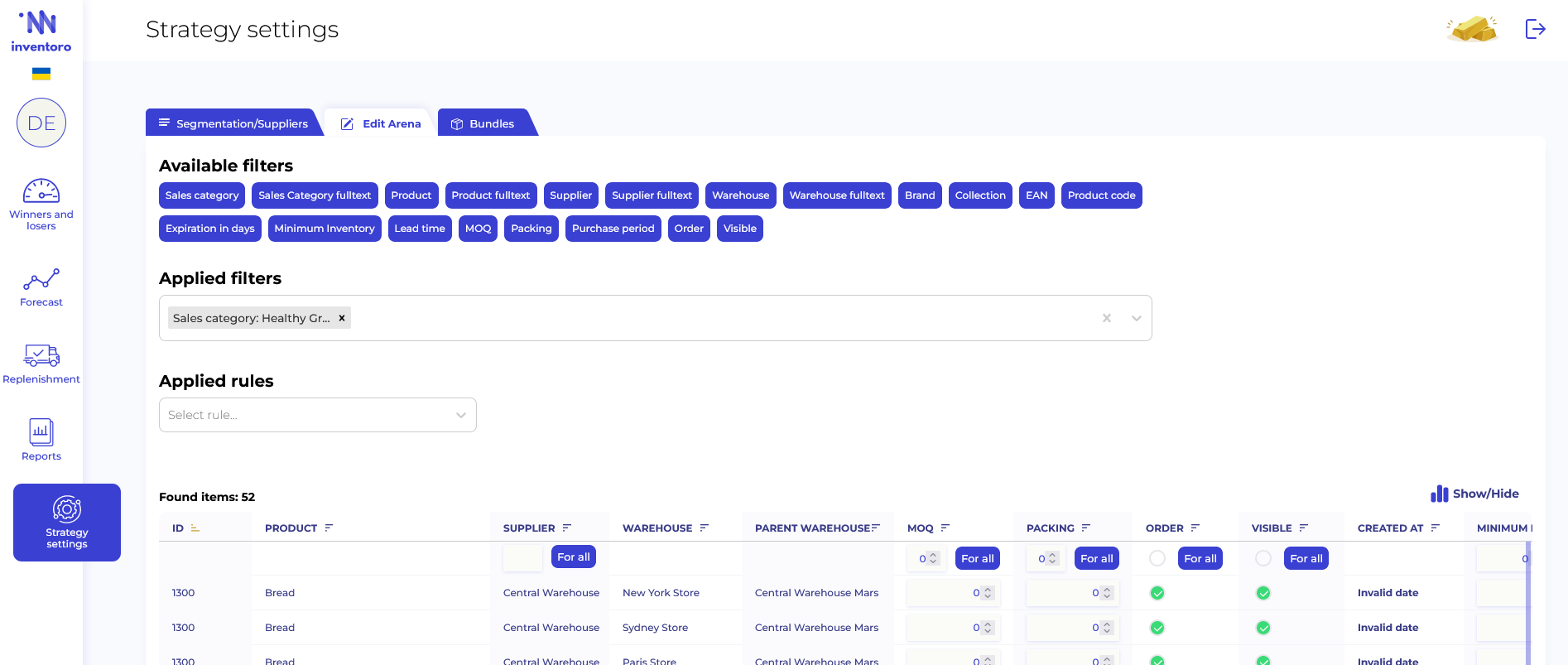 The Edit Arena is a tool designed for advanced inventory management. You can change parameters on any SKU or do bulk changes on groups of products. We have prepared some pretty advanced filters for you to set your product groups anyhow you need. By warehouse, by supplier, brand, collection and much more.

There are many use cases for this:
💪 Exclude drop shipping products from order proposals
💪 Adjust order proposals to specific cubic meters to fit containers or other spaces
💪 Set expiration dates for fresh and super fresh products
💪 Set predecessors for new products, which replace older models
💪 And much more. The possibilities are endless.
Here is the full list of settings you can do on any SKU or a group of SKUs defined by your filter:
You can "edit suppliers" or create new ones and select which part of the portfolio you would like to purchase from them.
You can set different "minimum order quantities" per SKU.
You can set different "packing" per SKU and Inventoro will automatically round a purchase order proposal to this specific number. For example, you are ordering wine from a wine producer and they are enabling you to order just multiple six because in packing you have to have 6 bottles of wine.
The "order" attribute represents if you would like to let Inventoro propose you optimum quantity to purchase or not. Anyway if you would like to stop ordering just set "order" to "no".
Attribute "visible" represents your choice for total excluding these items from Inventoro. They won't be a part of lists, reports, forecasts, purchase order proposals and so on.
Would you like to hold at least 1 piece for the item you are buying from a supplier? Sometimes, that's a necessary part of the deal if you would like to achieve a better price. So you can easily set the "minimum inventory" to "1". Inventoro will keep an eye on this and will look after that you have at least 1 piece no matter what.
"Expiration in days" are perfect for businesses who have to deal with short expiration dates. For example dairy, grocery, pharma, brewery, etc. A good example is a simple yogurt where expiration dates are in just a few days. Inventoro will optimize inventory to cover just this specific expiration date and will eliminate write-offs because of expiration.
We have prepared specific settings for the "purchase order period" and "lead time" for SKUs. For example, the lead time for the whole supplier could be 40 days but for a specific part of their portfolio the lead time will be 80 days.
You can set "weight" in kilograms and "volume" in m3 per SKU. This is a preparation for our new feature where Inventoro can create a purchase order with automatic utilization of for example one 20" feet container, 40" or even 40" high cube container.
Last but not least is support for "predecessors". Imagine that you've just added completely new products to your portfolio. With zero sales data, zero information. If you link these new products to current (existing) items, Inventoro will automatically utilize sales history from these predecessors and be able to create consistent forecasts from day 1.
Read this post to learn how to work with filters in Edit Arena.